Equipped with hundreds of sensors capable of analysing their operation in real time, modern vehicles are perfect examples of the application of the concept of predictive maintenance. Analyzing a vehicle's performance makes it easier to anticipate breakdowns. And also direct its owner to the nearest garage. The good news? These new technological ecosystems are transferable to other areas such as industry, transportation, home automation, etc.
The emergence of "IoT" connected objects only accelerates this "predictive" process. By launching Field Service, a solution attached to Dynamics 365, Microsoft is positioning itself as a predictive maintenance player. After a round-up of the ins and outs of this technology, put into perspective the strengths of the Microsoft Dynamics 365 for Field Service solution.
Predictive maintenance: definition, operation and actors
What is predictive maintenance?
Xavier Guérin, mapR's vice president of business development for The EMEA, said predictive maintenance "is about continuously monitoring the performance of a system or equipment to detect any signs of failure. Possible. This strategy allows for greater control over the overall operation […] But predictive maintenance is also valuable to avoid unforeseen immobilization."
In fact, how does it work?
Sensors collect data throughout the production process, as is the case for robots on vehicle production lines. Then, this data is analyzed by a computer solution that formalizes types of behaviors (normal, critical, etc.). One of the aims is, like the algorithms of machine learning applications, to teach the machine to function better in the context of its use and to make it self-diagnosed. Imagine this technology as a doctor constantly by your side to take your pulse: a real 24-hour checkup.
To understand, nothing better than examples. The now predictive, extension of preventive maintenance, was launched by industry players. Today, with the development of data-driven applications, connected objects and advances in big data, all sectors are getting started: aeronautics, transport, elevator and washing machine manufacturers as well as players such as Darty, for example.
Find out the Rolls-Royce case
Who are the big players in predictive maintenance today?
There are many historical players such as Bouygues Energies and Services, CMI Group, Cofely Endel or Vinci Energies. But, it is also important to take into account the emergence of an ecosystem of highly innovative start-ups such as INTENSENS , TEEO, CONNIT, or more recently ERMEO. Finally, let's not forget the players of the telecom internet at the forefront of the Internet of Things like Sigfox.
Dynamics 365 for Field Service's strengths in addressing predictive maintenance challenges
With Azure resources, the solution will enable professionals to move from a "classic repair model to a predictive model with integrated data collection, analytics and alerts."
In practical terms, this allows a maintenance team to
Easily connect any resource to the Microsoft Azure IoT Hub;
Enjoy predictive maintenance and remote control
Automate remote problem solving to limit the number of passes of other maintenance technicians.
Imagine the time and cost savings for an actor like the PSA Group with its thousands of industrial robots?
But Microsoft Dynamics 365 for Field Service lets you go much further! It gives you the opportunity to optimally plan the actions of your teams. As well as the steps of your project and gain mobility through intuitive mobile applications like PowerApps.
This Microsoft solution is not going to revolutionize predictive maintenance. It goes beyond that by enabling the company to become more agile thanks to a state-of-the-art technology ecosystem. One step closer to a successful digital transformation!
Learn more about Dynamics 365 for Field Service: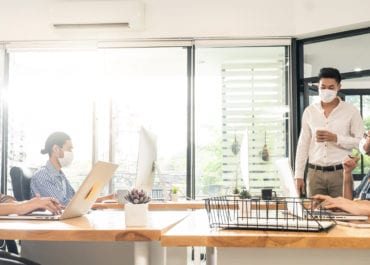 The crisis we are experiencing is likely to have a significant impact on the evolution of telework. Companies will certainly…