The crisis we are experiencing is likely to have a significant impact on the evolution of telework. Companies will certainly stop the race to expand their offices and will instead invest in collaborative work with tools such as Teams and will look for solutions to manage the presence of its employees on site.
That's why Masao and Microsoft are working together on the power safe office application to help businesses manage the number of seats available in the office.
This application will be particularly useful in this time of return to work in a limited team. You will be able to manage requests for access to the office according to the number of places available and health constraints.
Developed with Power Apps and Power Automate,this app available at the end of May on the AppSource will have the following features:
News of the moment
View of current office access guidelines
Access to a availability calendar
Questionnaire to make a first approval filter
Approval flow of office access requests
Tracking the status of employee's requests
Back office with management of the number of places available per week
Manager validation tasks for each request
Other features will appear in future releases and can be developed if you have specific needs.
Fill out our contact form to be notified as a priority of the availability of the Power Safe Officeapplication.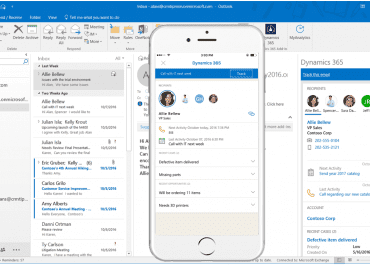 Microsoft Dynamics 365 App for Outlook helps you maximize productivity by displaying Dynamics 365 data in the app Outlook. Indeed,…